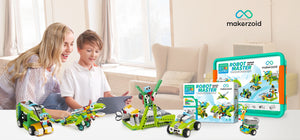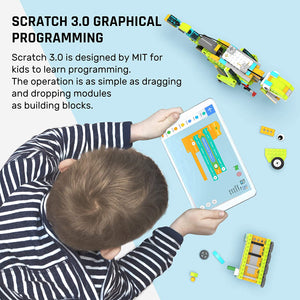 Programmable Building Blocks Kit
Robot Master supports multiple platforms programming function such as Pad and Phone.
It could lead kids into the new sciencitic trend in this 21st century, let them get in touch with programming faster than others.
Besides, following the app or manual instruction to build various robotic models could let kids learn a lot of basic engineering knowledge while they have so much fun.
Currently we have 2 versions of this Robot Master serie, one is premium, the other is standard version. It makes sure there is always a version suitable for you.
Let's discover it together!
Learn More
Up to 200+ Robotic Models
Our buidling blocks kit has different specifications from 150+ pieces to 600+ pieces of bricks for different ages to make sure meet your demands. We officially created more than 200+ models for references and most have 3D instructions in our APP self-develped MAKERZOID.
For younger children, the pure building blocks or the electronic buidling blocks are suitable for them to get started in STEAM learning.
Models are moveable manually or powered by batteries(not included in the kit) that bring kids lots of laugher and fun, as well as the knowledge of pyhsic, engineering, the ability of imagination, creation and logical thinking.
Learn More